Toronto's
Kitchen Refacing experts
 Get a Complete Kitchen Cabinet Refacing Makeover for Your Toronto Home Today!
Our Services
Here at Urban Kitchen & Bath we stand behind our service and don't forget our customers even after making the final payment.
Re-facing means we keep your current cabinet boxes but replace all the doors, moldings, and hardware.
We provide full remodel services with 3D renderings using the latest kitchen design tools.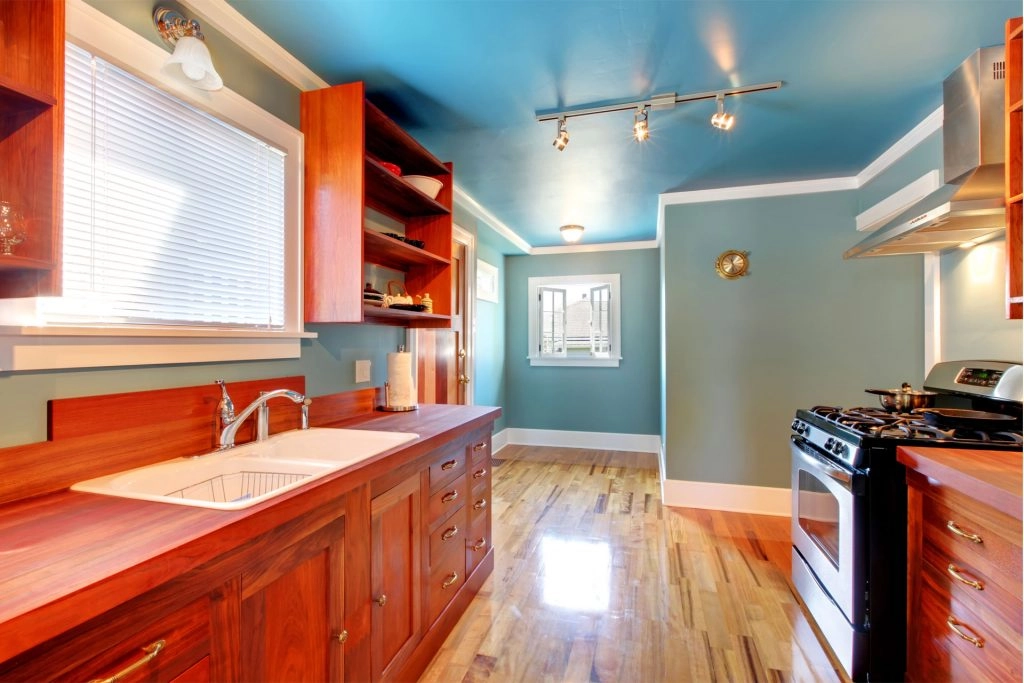 Custom Kitchen Installation
Get your cabinets, back-splash and counter tops installed or repaired by professionals!
Quartz / Solid Surface Countertops
In this package, we also change the countertop and replace or install any additional cabinets.   
Recent Toronto Kitchen Remodeling Projects: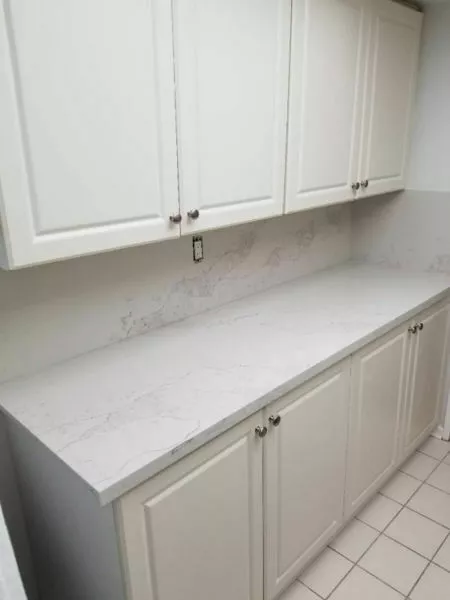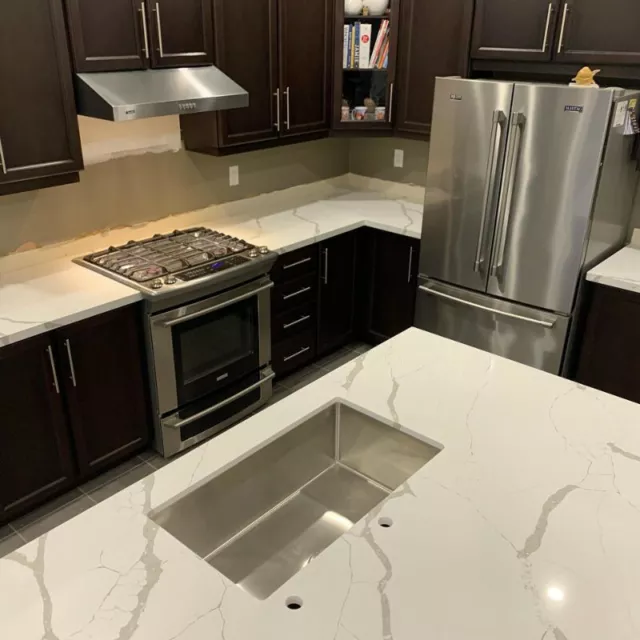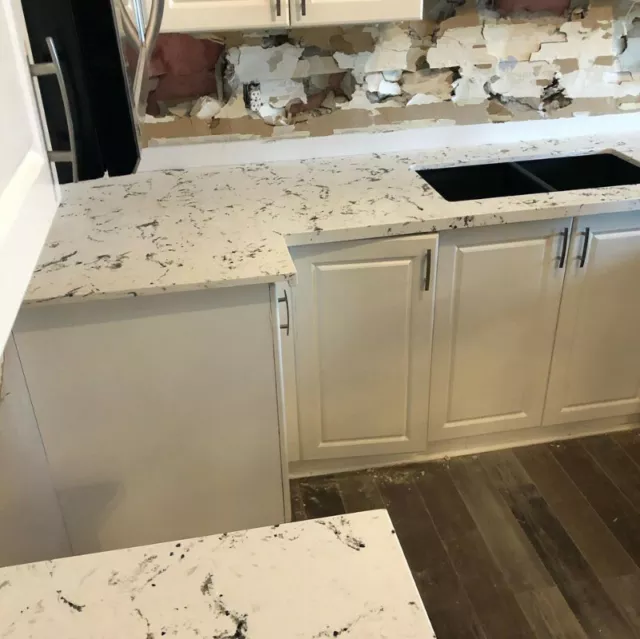 Ready For your all new & beautiful kitchen?
It is fun, easy, affordable. You will observe are pricing is often 30% more affordable than our competitors! 
What is the Average Kitchen Renovation Cost in Toronto?
According to homestars the average cost to renovate a  Kitchen in Toronto in 2021 ranges from $6,500 to $78,000. At urbankitchenandbatch.ca you can find that our prices are often 30 to 40% lower than our competitors.  See for yourself, ask us for a free quote and we will offer you our most competitive rate for your kitchen renovation project.
Competitors Cost of kitchen Renovation in Toronto:
Small Kitchen (<70 Square Feet): $6,500-$26,000
Medium Kitchen (100 – 150 Square Feet): $19,500-$52,000
Large Kitchen (>200 Square Feet): $40,000-$78,000
Affordable Kitchen Renovations Toronto:
At UrbanKitchen&Bath expect to pay on average 30% less on your Toronto Kitchen renovations. That means that for a small kitchen and a basic renovation project can cost as little as $4550 including the cost of Materials, Design and Installation. Find out the
cost of kitchen renovation by requesting a quote from us.
Why Choose Urban Kitchen & Bath For Your Next Toronto Kitchen Renovation Project?
UrbanKitchen&Bath is a leading kitchen renovation company in Toronto. With a focus on creativity, quality, and affordability. We deliver outstanding results no matter how big or small the job is. If you require a detailed budget for your upcoming remodels, we provide free, no-obligation estimates.
 We are specialists in the art of kitchen refacing. We are good listeners and communicators and work with our clients to meet their requirements. Refacing is fun, easy, affordable. You will observe that our kitchen renovation price is more affordable than our competitors! 
Whether you need a new kitchen in Scarborough or Cabinets in Ajax or a Kitchen Renovation in Toronto, we are here to help.  
Toronto Kitchen & Home Improvement Experts
As the most important room in your home, the kitchen has to be a beautiful and welcoming design. Condo Kitchen Renovation & Remodeling is an investment! 
Our experienced Toronto kitchen renovation specialists stay updated on the most recent developments in the renovation of kitchens. Besides offering in-house cabinet design, we also provide several different kitchen finishes which are tailored to meet specific client needs.
Toronto Kitchen Cabinet Styles of 2021
Each one of our Toronto kitchen remodels can be distinguished by its islands, kitchen countertops, shelving, and cabinets. We manufacture and custom kitchen design every piece of cabinetry in-house to create an outstanding tailored kitchen.
We provide bespoke kitchen cabinets made to match the specific functionality requirements of your kitchen by designing and manufacturing them in-house. We also use only the highest quality cabinet materials, which ensures that not only do the cabinets customized by our company perfectly complement individual kitchen designer tastes, they are also highly durable.
A kitchen island can be designed into a smaller kitchen with our custom kitchen cabinets, kitchen countertop, and fitted kitchen appliance.  Get your  Dream Kitchen today!
Is it the Right Time to Renovate your Toronto Home?
Renovating a Toronto kitchen is no small task. However, failure to renovate could amount to even more expenses later on. Renovating a kitchen can solve this problem and add value to your property. Older kitchens deter buyer interest and reduce value. An improved kitchen can also increase the livability of a home, as well as increase market value. Cabinetry produced by mass production and off-the-shelf kitchens holds up progressively worse as time passes. Renovation, on the other hand, breathes new life into kitchens while improving their appearance as well.
Kitchens are ultimately social spaces. They are more than a place to prepare food. Yet, the kitchen design trends continue to change. With every kitchen renovation, we create detailed plans to ensure it stands the test of time. Our cabinet craftspeople and designers discuss material choices in minute details during the design phase.
With our team we can accomplish any renovation, no matter how unique, striking, or rustic; whether it is a rustic or luxury kitchen remodel. Even the most lavish of custom kitchen remodels can be accomplished on time, and within budget.
a few Reasons To Reface your Toronto Kitchen using Urban Kitchen & Bath
List of Neighbourhoods where we have done Kitchen Renovations around Toronto:
Toronto

Scarborough

East Danforth

Greektown

Crescent Town

Thorncliffe Park

Regent Park

Gerrard Street

East

North York

East York

Ajax

Pickering

Whitby

Oshawa

Don Valley

Eglington

North York

Eglinton East

Clairlea Port Union

Morningside

Morningside Heights

and more!